$6.40 or less after FAB Discounts (Reg $8.00) + FREE U.S. SHIP OVER $75
(Avail: )
---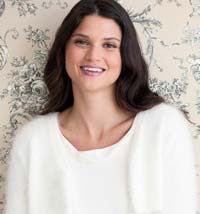 Pure bright White angora is a great accent and wonderful for the purists, great for fluffy trims or accents color in angora knitting projects. This is the color that was used in the Vogue Bridal Shrug worn by Kate Middleton as shown at right.
---
FIBER: 100% ITALIAN ANGORA
WEIGHT/yardage: 10G/49 YDs
GAUGE: 5st = 1" on US 8 (5.0MM)
---
Stock item: (Except as noted) Colors are available in any quantity—You may over-order plymouth angora and your order will ship in +3-5 days. (If you can't add to cart color is temporarily unavailable.) Or Special Order Plymouth angora here.
---
See also Belagor French Angora.