Peau De Soie Hand Dyed Silk Yarn: a fab exclusive!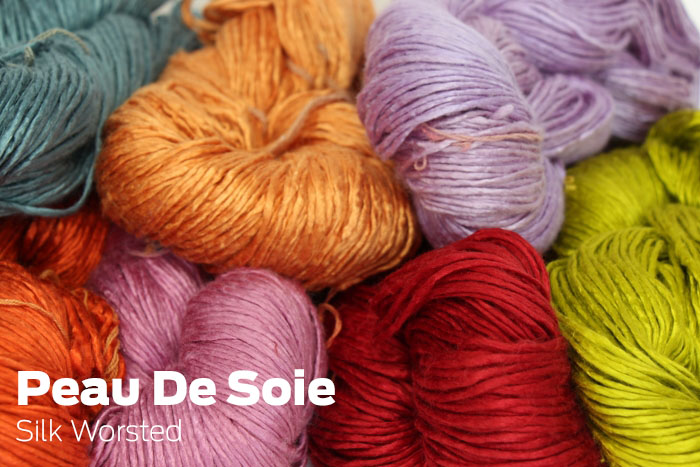 $14.70 ON SALE (Reg $21/Free shipping on orders over $75)
No further discounts on this sale item.
---
Peau de Soie silk yarn is a crisp, hand dyed silk yarn that any fiber lover will go gaga over. We've imported a beautiful silk kettle-dyed yarn unlike most high-end silk yarns—it's a little funkier, a little more rock and roll. Peau de Soie silk yarn is soft yet crisp, with an almost linen-y feel. It has a wonderfully soft, not extreme luster, and the color depth is amazing.
We call this a worsted silk roving because it has no twist, is not plied, and the slight thick and thin throughout the strand adds to the visual interest. At approx 180-200 yards, one skein will do a lovely short neck scarf, 2 a lovely wide and long scarf. Also, if you work it on large needles in a lace pattern, you won't be disappointed!
Everything about this yarn, from the spinning to the skeining to the dying, is hand done so no two skeins are alike—though batches are consistent. Please order enough for your project—we'd hate for you not to have enough and supplies are limited on this custom yarn! This yarn is a worsted weight when knit, and works well from size 5's to size 10's—and we're testing it for more lacey-type patterns now.
Don't see the color you want? Not enough in stock? Order exactly what you need, in any color or quantity, by placing a preorder. You may also order a custom color. Please note that we combine orders, so your order should ship within 30 days, but may take up to 3 months!
Pre-order Peau De Soie.
Peau de Soie: crisp, hand dyed silk
FIBER: 100% Hand Dyed Silk
APPROX LENGTH/WEIGHT: 185 yards/100 grams
GAUGE: 4 st per inch/ Great for openwork lace knitting, too!
NEEDLE SIZE: #7 but works wonderfully with sizes 5 to 10
YARN WEIGHT: Worsted