Knitting Bags, Travel Bags, Totes + needle cases & organizers
KNITTING BAG GUIDE
What's the best knitting bag? No matter the project or the passion, one thing a knitter or crochet fanatic cannot have enough of is places to keep their stuff. We are always searching for the perfect knitting bags—and we've found a few!
Unique fashionable designer knitting bags from Della Q, Offhand Designs, Atenti are unique and stylish and perfect way to carry and protect your precious yarn projects, whether on the go or at home. In a range of styles, you'll find the perfect knitting bag right here—and yes, some of these bags make a very nice elegant travel bag or large purse!
Need a fabulous large knitting bag?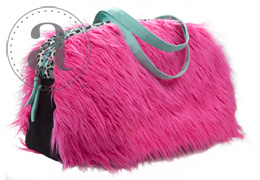 Try the Atenti Overnighter: Perfect Bag for a weekend away, a knitter's project bag, an airline carry-on or even a diaper bag. These roomy Overnighters have double straps, a 25" zippered opening and a full water resistant lining.
Need a rough and tumble bag for summer drive or the beach?
Try our new Graf Lantz Canvas bags: like the dependable old LL Bean bag but much cooler!
Need a zippered knitting bag or a tapestry knitting bag?
Check out Atenti bags: super cool fun gorgeous knitting and travel bags. Better than Mary Poppins!
want a fashionable knitting bag that looks good in the city?
Check out Fibre of Life, Maker's Collection from Della Q or Brooklyn Haberdashery bags and cases: both with sophisticated and super sturdy design, elegant but not fussy—def not your gramma's knitting bags!
Struggling for a gift idea?
One of these special knitting bags makes the perfect gift for the knitter who has everything—or check out our huge selection of fabulous luxury knitting needle sets!