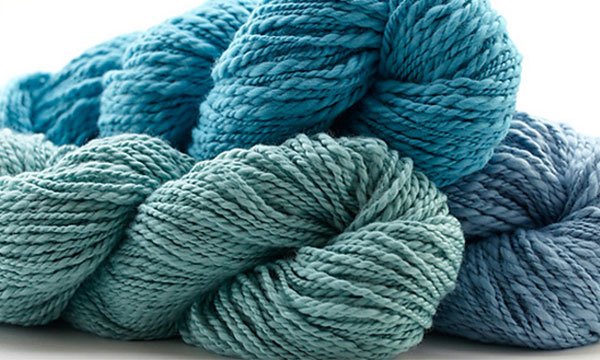 $11.60 or less after FAB Discounts applied at checkout (Reg $14.50) + Free U.S. Ship over $75!
---
Inca Eco is a beautiful, fantasy spun Okeo-Tex Standard 100 Certified 100% Organic Cotton available in 40 shades. Ecru is the undyed natural color. All other shades are dyed with low-impact, environmentally-friendly dyes. Inca Eco is non-GMO and grown without the use of toxins, pesticides, and synthetic fertilizers.
The unique thing about Galler's Inca Eco Cotton is the 2 ply thick-thin way it is spun and plied, that gives it a distinct "pebbled" or hand-spun look. If you're a fan of Blue Sky Fibers' Handspun Cotton this is almost identical and Inca Eco works great with Blue Sky's Worsted Cotton patterns.
---
Stock item: you may order more than is shown available and (usually) your order will ship in 3-5 days. Special Order Galler Inca Eco here.
---
FIBER: 100% Organic Cotton
YARDAGE: 140yds / 130m (100g)
GAUGE: Worsted (#4) - 4.5 st / inch (2.54 cm) ON US 8 (5mm)
---
Fab's got lots more organic yarn right here!
GALLER INCA-ECO ORGANIC COTTON SPECS
FIBER: Okeo-Tex Peruvian Certified 100% Organic Cotton
WEIGHT/length: 100 g / 140 yds / 130 m
GAUGE: Worsted (#4) - 4.5 st / inch (2.54 cm)
NEEDLE SIZE: US 8 / 5mm
CARE: Hand wash cold. Lay flat to dry.
What is Peruvian Cotton?
Peruvian Cotton is exceptionally soft and luminous. The soft texture and breathable nature make it a very wearable fiber. In addition, the natural qualities of the fiber gives this yarn exceptional strength, durability and absorbency.