blue sky fibers yarn
---
---
DISCONTINUED bLUE sKY yaRNS
---
BLUE SKY FIBERS WITH NEW PATTERN + YARN KNITKITS
---
BLUE SKY FIBERS WITH CLASSIC PATTERNS
Who is Blue Sky Fibers?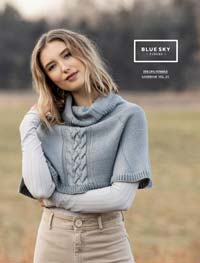 At left, click to see Blue Sky 2021 Lookbook featuring Skyland
Blue Sky Fibers started as a pet project, of sorts. Shortly after graduating college, owner/founder Linda Niemeyer's curious preoccupation with Alpacas led to her buying one. Soon Linda found herself with a lot of yarn on hand. She took it to a nearby yarn store, which was willing to buy and sell it. And the rest, as they say, is history. Today Blue Sky Fibers is known worldwide for its consciously crafted collection of high-quality natural fibers and patterns. One can only imagine how things might have turned out differently had Linda been obsessed with giraffes instead.
Where to buy Blue Sky Fibers? At Fabulous Yarn of course, for the best selection and best prices!
Sold out: Sorry, American Scenic, Royal Petites and Royal Alpaca are sold out and discontinued/no longer available.