Vinni's COLOURS | SERINA 100% Bamboo YARN
$7.84 or less after FAB discounts applied at checkout (Reg: $9.80)
---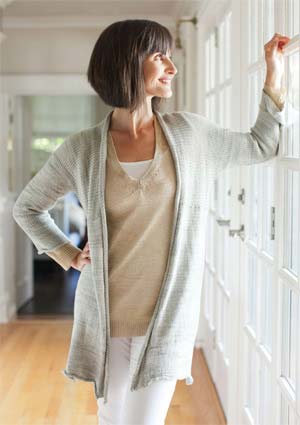 Bamboo is back! 100% Hand-dyed bamboo yarn is just the ticket for spring and summer knitting and crochet. Like cupcakes of color, the bamboo really makes the colors shine. Formerly sold by Be Sweet, this is the same eco-friendly, sustainable, non-animal yarn as Be Sweet Bamboo. Wow! More new colors for 2021!
Vinni's Serina is a 100% Bamboo, hand-dyed yarn. Bamboo is a luxurious yarn with a rich shiny lustre. The variations in the depths of shade make every product a unique knitting adventure. It's natural drape makes it ideal for scarves, shawls, cowls, summer tops, home decor and babies.
Bamboo Swing Cardigan (above right) Pattern download included with purchase.
---
FIBER: 100% Bamboo Viscose 4-ply
YARDAGE: 50 grams/111 m/120 yds
GAUGE: 21 st/30 rows over 4" in stockinette on US 5
Bamboo: The Sustainable, eco-friendly Yarn
This incredibly lustrous Bamboo yarn is fabulous to knit with, smooth and silky, yet very light and dry. Yes, I know it sounds as if I'm describing a fine wine, well, almost! This fits the bill for summer and early fall in a number of ways: first, its light. Second, it's insulating, third, the colors are to-die-for. This is a light weight yarn, not quite a worsted, yet not fingering. and would work well for a tank, or an openwork shawl.
---
FIBER: 100% Bamboo Yarn
YARDAGE: 50 grams/110yds
GAUGE: 21 stitches and 30 rows over 4" in stockinette on US 5
CARE: Handwash
---
(Note: this yarn formerly know as Be Sweet Bamboo is now available again from the dyer Vinni's Colours! It is the same yarn.)