SOAK WASH
gentle laundry care for your hand knits
SOAK wash, hand lotion, gift sets and travel packs
Other Soak products coming soon!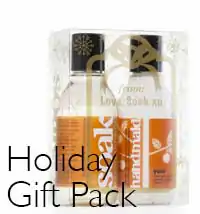 soak & handmaid combo gift pack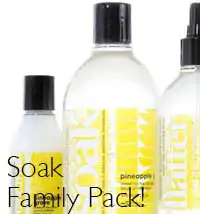 SOAK FAMILY PACK - COmbo SOAK, LOTION, FLATTER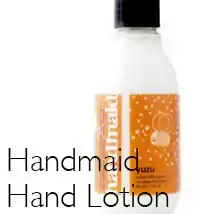 Soak Hand Lotion 16oz in 6 flavors
What is Soak Wash?
Soak is modern laundry care. Clean up with Soak's eco-friendly formulation. Developed to be as easy on the environment as it is on your clothes, it's the no-rinse clean you trust and love.
LOVE IT? Soak it!
Whether you're hand washing your laciest lingerie, coddling your cashmere or giving your knits a whirl in the washer, these tips will help you give your loveliest laundry items the care they deserve. Soak's no-rinse formulation leaves your knitting and crocheted pieces clean and smelling wonderful.
Soak is ideal for raw fibers, spinning, dyeing – and for the entire fiber lifecycle. Use it to care for cashmere, wool, cotton and other delicate knits. Try these fool-proof tips for taking care of your knitted items.
HOW TO SOAK!
Check first. See if your item is colorfast by rubbing some Soak into a hidden area and rinsing after two minutes. If there's no bleeding, you're good to go.
Prepare yourself for some dirt. When you hand wash, you'll probably see dirt and oils in the water, especially if you haven't washed your piece in a while. If the water gets really dirty, pour it out and Soak a second time.
Don't worry about colour. Gentle cleansers like Soak can pull excess dye out of knitted items. If you see dye in the water, it's okay – it won't harm your item. (It comes out of your clothes in the machine too, you just don't see it.)
Get the water out. Squeeze out as much as you can, but be gentle. Don't wring, twist it or lift the item and let the weight of the water stretch it out. Roll it up in a clean towel, or if your machine has a gentle spin cycle, spin the water away.
Lay it flat. Place the item on a towel, reshaping as you go (for the knitting-uninitiated, this process is called blocking). Lay it flat in a spot with good air circulation on all sides (like a drying rack), and flip it over after a while so it has a chance to dry on both sides.
Knitters, Soak your swatches. Measure your stitch count when the swatch has dried; the stitches will relax and the block will likely grow in size.
why people LOVE SOAK!
"This product does what it says! It cleans my handknits gently, rinses out easily, and removes that wet dog smell from my wool sweaters! - A Brady
I Love SOAK! I have two bottlees currently, and I use it to wash baby clothes, undies, and of course, woolies. - Amanda
I just LOVE this new scnt of SOAK (FIG)! It has a spicy pear fragrance that is PERFECT for knitwear. - Sweetbeej