Addi Knitting Needles & Addi CLICK Interchangeable Sets
Addi Turbos, Addi Lace, Addi CLICK Sets and Click Accessories
Addi: The Gold Standard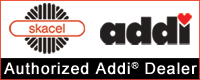 Addi Knitting needles have definitely become the gold standard in metal knitting needles. Here's our description of how the tips on these needles differ and how you can apply that to your own needs and choose the tip that is right for you... and yes, Fabulous Yarn is an Authorized Addi Dealer!
The regular Addi TURBO circulars come in two flavors—regular tip and lace tip. The regular tips are just sharp enough for us, the majority of the knitting we do works really well with this tip, and the finish is just right for anything from silk to merino wool.
Addi Lace needles are a tad sharper—we use them for projects that need extra precision—detailed lace patterns, yarns that have a lot of loft and so you need extra precision when you're knitting. Some people just use the lace overall—I use them almost all the time—those extra tips help when your eyes are not so great!
ADDI CLICKS are some of our favorite products—we've tried them all—and love them all. There are a couple of options with the CLICK Interchangeable—here is the scoop from our testing.
ADDI CLICK TURBO INTERCHANGEABLES are the regular turbo tips, with 3 cords and a connector, in a spiffy carrying case. These is a fantastic all around interchangeable set. Great for traveling— perfect for summer vacation! Also makes a great gift for the serious knitter.
ADDI CLICK BAMBOO are a beautiful alternative to the Metal Clicks. These are very nice bamboo tips, with a great point. If you love bamboo needles (as we do) these are a great addition. These are especially good for very slippery yarns, where you need a little extra traction—they are not as slick as the metal addis, though they do have a smooth, silky finish.
ADDI LACE CLICK INTERCHANGEABLE are a must have for us—we usually travel with the two sets, regular and lace tip. Addi LACE Clicks have a really nice tip, and for us, are the right length for any project requiring extra precision. We often switch back and forth during projects—using the lace tips for detail work, and the regular ADDI tips for ribbing, stockinette and garter. The work really does fly when you use these needles.
ADDI CLICK LONG TIP LACE—These are a great new addition—put together at the request of many knitters who needed a longer tip for more intricate patternwork—but what people have told us is that it also relieves stress on your hands having the longer tip. In addition, if you do a LOT of lace, this set features the new Life Line Cords—these cords have a tiny split in them near the join at the tip. You thread a carry-along yarn or really thread in here to knit with—when you have finished your 400 stitch pattern row—you can check your work and make sure all the stitches have made it onto the life line—it will catch all the stitches and if you've made a mistake, you have them all on your lifeline so you can catch it early. A great feature!
WHY DO KNITTERS LOVE ADDIS?
Sarah: "I love Addis because they make lace knitting so much smoother!"
Amanda: "They're smooth, sleek, snag free, full of interchangeable options and the best and fastest needles I've ever used! I won't trust my knitted items to anything else but Addi Turbo (the Lace tips are my favorite)!"
Joyce: "I started with what my mom gave me (aero) but once I got into knitting lace, I treated myself to a couple of Addi lace circulars and have not looked back since. I have both the turbo and lace in a variety of lengths. They just feel good—light, smooth and fast (turbo). I also love the coating on the lace ones to prevent slippage. Now, I'm interested in the bamboo ones for travel because I dare not risk having my addis confiscated."
Amy Stewart: "I love that I can easily identify my Addi needle sizes, whether from the cord on the Addi Turbos or by the etching on the Addi Clicks."
Andrea: "I love that each needle in the Addi Click set has the number and millimeter size etched on them. You're never left scrambling to figure out what size you have. The cords are also so flexible with little to no memory which makes them great for magic loop!"
Ann Yue: "I love Addis. Love the click system. No keys required to tighten the cables. they are smooth and slick. They feel nice in my hands."
leahtiger: "Love my addis.... I don't have very many but I enjoy using them whenever i can. They're like silky liquid steel!"
Angela Ryan Fuhrman: "I love Addis because the needles are smooth, the joins are snag free, and the cords are super flexible. Love, love, love my addis and addi clicks."
Nan: "I have the Addi Basic Click Interchangeable Set and I love it! The connection between the cord and needles is very smooth. Also they have a big range of needle sizes in one set (US size 4-15). This is something I don't see in other brands that I know of. You get so much in just one case. Worth the investment!"