Fab yarns by weight
Understanding Yarn Weights: a yarn weight guide
Not all of our yarns fall into exact weight definitions but we have done our best to organize them into standard weight categories—and on each yarn page you'll see advice on needle size relative to number of stitches. The most important thing is finding the yarn you love and a project and pattern that fits it—or vice-versa!
Another very important term to understand relative to yarn weight (and needle size) is "gauge." Knitting patterns specify a certain yarn and weight but say your gauge will vary based on the size needle you use. Gauge is the number of stitches per inch horizontally and the number of rows per inch vertically that a knitter creates when stitching with a particular size yarn and needle. Even when two knitters use the same yarn, gauge can vary quite a bit. Even 1/4" difference in gauge can determine whether or not a sweater fits or the length of a finished scarf. This is why test swatches are so important.
---
COMMON Yarn Weights
Some Malabrigo Yarn Weights Compared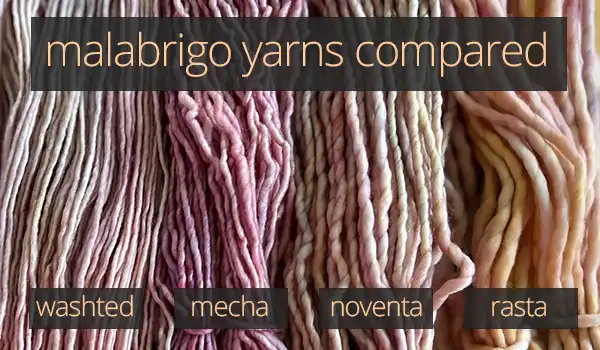 What's the difference between different yarn weights? Click pic for closeup which shows a good example of some confusing Malabrigo yarn weights (Left to right) comparing Worsted, Bulky, Bulky/Aran and Super Bulky.
---
Below are some useful links to understand more about yarn weight. And as usual if you need help, just ask—start a chat (blue "Question? Ask Us!" bar below) or send us an email!