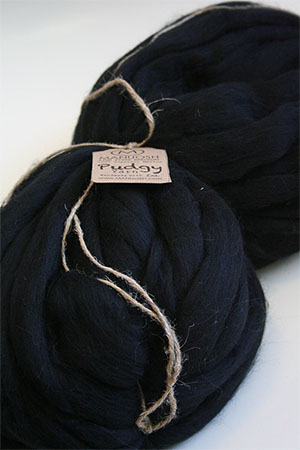 Pudgy comes in lovely tied bundles as shown below!
A deep, dense, light absorbing black. No blue overtones, just pure, unadulaterated black. Make a scarf with just 1 skein, cowl takes 2, and a 30x50 blanket
uses 4 of this stunning color. You'll need big needles, two: scroll down to see our options!
$41.60
or less after discounts applied at checkout.
Reg Price: $52
Content 100% Super Fine Merino Wool
Gauge 1 st 1" and 1 row US50, U hook
Weight/Yardage Approx 10oz/30 Yards
Care hand wash, lay flat to dry, no agitation

Guestimate: For a 30x50 throw, you'll need 4 Pudgys!

_______________________

SPECIAL PUDGY ORDER/PREORDER FORM



We generally stock between 2 - 4 of every pudgy...but...if we are out of the color you want, or you need more than we have on hand, please preorder using this form - we'll get those bumps on their way to you PRONTO)


Choose from Bagsmiths Jumbo Single Points, our Knitters Pride BASIX Jumbo Circulars!



Snow
Noir
Spice
Creme
Heather
Azure
MInt
Regal
Brown Sugar
Sweet Potato
Vamp
Think Pink
Pistachio
Violet
Lemon
Tangerine
Steel
Sapphire
Crystalline
Cotton Candy