BUMPS | Bagsmith Alpaca Yarn Bumps
$125.00 or less after FAB discounts applied at checkout (REG $157)
Note:It takes an entire animal's shearing to make one bump, so these are really unique. Sometimes the mill makes more than one bump, blending different animals fiber, so we can get 2-3 that match pretty well. If you need matched bumps, please let us know in the comments when you check out so that we can do a visual check and try and get you the perfect combination!
Alpaca Bumps
FIBER: 70% Alpaca/30% Merino
LENGTH: 125 Yards/114 Metres (approx)
GAUGE: Single Ply, Super Bulky
NEEDLE SIZE: 1 Stitch per inch on US50/25mm Needles
SOURCE: American Alpaca
CARE: Handwash/Air Dry
---
At Fab Yarn are always seeking out funky and unusual bulky yarns. This fits the bill exactly! A blend of alpaca, merino wool with a nylon core, this super bulky yarn is TRULY Uber-bulky. At 1 stitch per inch, it's one of the bulkiest we've found, and the ONLY super bulky alpaca. With gentle bumps and ridges, it has beautiful texture, and is not so heavy as to be unwearable when knitted. Makes for great rugs, and throws with almost 125 yards per bump, and think of what you can do with that at 1 stitch per inch!
Bump Pattern Books and needles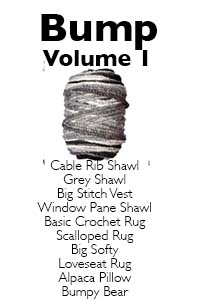 $12 after discounts (reg $15)
From the Cable Rib Shawl to the Alpaca Pillow, lots of fun projects to work your fabulous bumps into!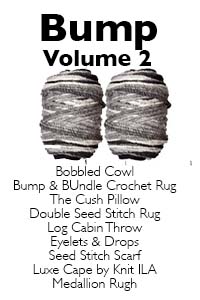 $12 after discounts (reg $15)
The Bobbled Cowl is a stunner (1 bump) and the Cush Pillow will keep you comfy whilst knitting! Lots of fun projects in this book created especially for the bump!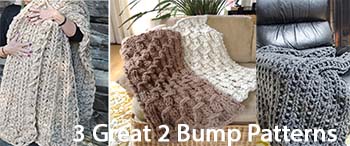 Free with your purchase, each of these fabulous blanket patterns uses 2 Bumps, and size US50 Needles, 24" or longer. We recommend: BASIX JUMBO by Knitters Pride