Wool and The Gang | Mixtape
$12 or less + FREE SHIPPING (Discounts apply automatically to orders over $50 at checkout)
---
Wool and the gangs Mixtape is a stretchy, squishy tape yarn in fabulously fashionable colors that qualifies both as a ribbon yarn AND a regular yarn. Knit or crochet, its FUN! Made out of recycled scrap tee shirt yarn, there's a pattern out there waiting for this yarn and your fingers!
MIXTAPE is a stock item - ! If you need more than what's available you can Special order MIXTAPE YARN.
Wool and The Gang Mixtape Yarn
Simple and fast to knit with, this yarn is made from upcycled t-shirt scraps - so you can knit with a clear conscience.

Fibres: 80% cotton 20% polyester
Yardage/Weight: 130 metres (142 yards) per 250 gram roll
Average tension: 10.5 stitches + 15 rows per 10 cm / 4 "
Suggested knitting needles: 8mm - 15mm (US11-19)
Suggested crochet hook: 6.5mm - 8mm
Weight: SUPER CHUNKY | 3.5 wpi
Machine washable in cold water.
WOOL AND THE GANG PATTERNS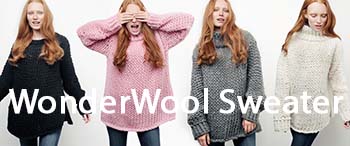 Free Download with your purchase: Wonderwool Sweater: 5/6 Skeins, US17 & US50 Needles
We recommand BASIX.