$7.84 to $9.68 After Fab Discounts at Checkout (reg $9.80 - 12.10). Order by the Pair (whole sets $75.30-111.60) prices below BEFORE discounts: Discounts applied at checkout. Note: This is a stock item, if you need more than we have on hand, order what you need and we'll get your needles out to you within a few days. Needles priced by NEEDLE SIZE, not cable length.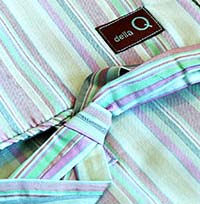 Add a Della Q Trifold Circular CasE
$52 + Free Shipping. Sorry no regular discount on this item, but yes save 5% Discount on orders over $75. Perfect way to organize and protect your circulars!
Knitter's Pride Marblz Circular knitting needles
Marblz Circulars come in a range of eye catching colors, specially developed so each needle appears exclusive and different than the other: a great aid to simplify the difficult part of knitting. Marblz needles provide the right 'grab' that allows for easy handling of slippery yarns, picking up stitches in a fast manner and helps in controlling those difficult stitches. Sharp yet Gradually Tapered Points are ideal for all knitting projects. Lightweight, smooth, with the right flexibility, yet exceptionally strong and durable. Warm to the touch and gentle in the hand. Resilient and flexible cord lays flat with no kink or twist and is easy to store! Available in sizes US 4 (3.5mm) to US 11 (8.0mm)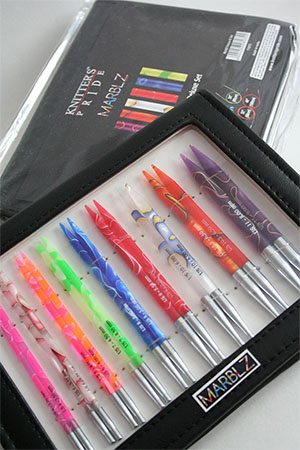 See also: Marblz Interchangeable Set or... All Marblz Needles
MORE Knitter's Pride NEEDLES
KNITTERS PRIDE CIRCULAR NEEDLES