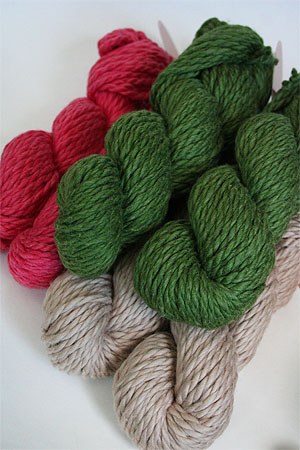 $15.60 or less—after Fab Discounts at Checkout (Reg $19.50).
Please note: Outer is a stock item. If we don't have enough on hand, please order what you need and we'll rush reorder and it will go out as soon as it arrives to us, usually in 2/3 days!
---
This super bulky weight is just the thing for a quick knit. Super soft Outer is made from 65% Superwash Wool and 35% Organic Cotton. It knits very similarly to Blue Sky Bulky Alpaca/Wool yarn, but this yarn has a couple of key differences: 1) it is 35% organic cotton, so the yarn has a softer, hand, with zero itchiness for those with wool sensitivities*. 2) It is a plied yarn, meaning it is two strands wrapped around each other, giving it more tensile strenght, more insulating qualities, and more visual interest. 3) It is machine washable: great for kids stuff or for messy grown-ups like me (judy). (Specs/Gauge/Yardage at bottom of page)
SPUD & CHLOE OUTER WOOL/COTTON
FIBER: Superwash 65% Wool / 35% Organic Cotton
WEIGHT/length: 100g / 60yds / 55m
GAUGE: 2-3 sts per inch/2.5cm * Suggested gauge only. Works beautifully with large or small needles.
NEEDLE SIZE: 11-15 US / 8-10mm
CARE: For best results wash gentle in cool water with mild soap. Tumble dry low until damp, block to shape.
*ALLERGY NOTE: if you are not just sensitive, but have a true wool allergy, please buy one skein of this yarn and untwist the skein leaving the tags and the skein intact. Put it around your neck for a few hours. If you have a reaction, please just return the skein to us.