Be Sweet - African Bead Ball
$22.40 ON SALE (Reg $35) (NO FURTHER DISCOUNTS)
FREE SHIPPING over $75
Please note: This is a closeout item and is limited to stock on hand. If we run short on any item we will offer you first choice on alternates. Lots may not match.
---
Be Sweet's bead ball is a lovely combination of baby mohair in both a regular and a boucle (loopy) combo, adorned with glitter and hand strung beads. Each color has its' own fabulous bead colors, and glitter changes depending upon the color as well - click on the pictures for a closer look! NOTE: This is a discontinued item and is the last of it's kind. Stock limited to what is on hand. We cannot preorder or reorder this yarn.
Bead Ball Colors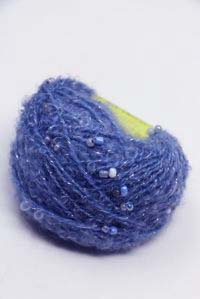 Navy
(Avail: )
Be Sweet African Bead Ball
FIBER: 100% Baby Mohair, single ply and boucle twisted with glitter strand
WEIGHT/LENGTH: approx 50gm/60 yards (Handspun so this may vary a bit)
TEXTURE: Fingering with beads and sparkle
NEEDLE/HOOK SIZE: Varies according to project
CARE: Handwash, cold water, dry flat