Addi Lace Circular Needles - there IS a difference.

Addi lace turbos are again, a very special needle. They have the beautiful brass lace finish - just the right amount of slip and traction to make knitting fast and easy - but the great thing about the ADDI Lace needles are the tips. They are extra fine. So, if you are like me and your eyes are getting a bit weaker then when you were 16 years old - that extra sharpness helps you place and catch stitches more easily. Honestly, I don't know why you wouldn't just use the lace needles for everything - I am certainly starting to! These are great for knitting with finer mohairs and DK weights, or embellished yarns, as well. Nothing like an Addi Turbo Lace. Except maybe the Turbo Lace Set!
| | | | | |
| --- | --- | --- | --- | --- |
| | Shorter, 16" Lace Circulars - great for Hats, Scarves, Small Shawls, legwarmers - anything that is not too big but needs that extra sharp tip. The LACE finish ensures that those stitches stay in place while your workinging. | | | |
| | 20" Addi Lace Circulars Great for smaller shawls, - sleeves, intarsian work on front, great for larger hats as well. The ADDI LACE finish ensures that those stitches stay in place while your workinging. | | | |
| | 24" Lace Circulars from ADDI - Fabulous for smaller magic loop projects, for shawls and scarves, and for detail work, whether knitting in the round - or not. | | | |
| | 32" Addi Lace needles, perfect for Magic Loop, medium sized shawls and scarfs, and garment work where extra fine tips can help, especially for intarsia or stitch detailing. | | | |
| | 40" Lace circular needles are the perfect size for garment work, larger shawls, or for knitting where 12" or 14" straights just aren't long enough to hold all the stitches. Tips are precision tapered, and the finish makes it easy to control your stitches. | | | |
| | 47" Addi Lace Circulars are great for larger shawls and wraps, or garment work where 32" just won't do. Lots of people actually use these for blankets as well. | | | |
| | The Madonna of Lace Circular Knitting Needles - the ADDI Lace 60" Circular - fantastic for fanatical lace knitters, or blanket knitters who need that extra sharp tip. | | | |

Lantern Moon Whimsical Tape Measures $8.50
Chicken

Sheep

Flowers

Leaf

Peppermint

Turtle
Ladybug
Cake
Bee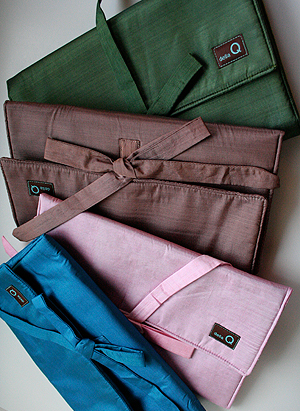 Need a gorgeous and super functional case for your needles? Look no further Della Q silk knitting needle cases, for both straight and circulars, including the QUE circular needle case....