Knitters Pride came out with this fantastic set - hollow tube ånickel plated brass with their special finish, that make these smooth and silky.Now they've improved them with a better finish, called PLATINA - and a slightly sharper point. Included are all the accessories you need to keep you knitting no matter how far and wide you travel. Add a Della Q Wallet (single set or double set version) and you can get thru security in a single bound.
This set is great with the Della Q Interchangeable Travel wallet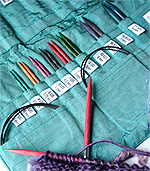 The della 180 will hold one set of these fabulous interchangeable needle sets - the 190 will hold two sets - of any sets - Addi, Dreamz, Cubics or Novas!