$256 or less after FAB discounts + Free U.S. Shipping (Reg $320)
Avail: ()
---
A luxurious and beautiful rendition of the Click Interchangebles - a beautifully grained Olivewood Tip set with brass connectors. 8 tips, and this kit features SOS cords, with the special stitch-saver feature. No tools, no screwing in, no stripped threads - just insert the tip into the cord, twist and click - you're ready to knit! Awesome! Tip Length is 5"
---
Tip Sizes
Cords/Accessories
8 tips:
* 3.5mm (US #4)
* 3.75mm (US #5)
* 4.0mm (US #6)
* 4.5mm (US #7)
* 5.0mm (US #8)
* 5.5mm (US #9)
* 6.0mm (US #10)
* 8.0mm (US #11)

3 SOS Cords :
* 60 cm (24 inch)
* 80 cm (32 inch)
* 100 cm (40 inch)
1 Connector
Addi Heart Pin
Needle Size Gauge Carrying Case
ADDI CLICK INTERCHANGEABLE KNITTING NEEDLE SETS
---
---
---
The Addi Click System explained

The Addi Click system gives you flexibility, versatility, and portability. Choose from multiple sets with 8 to 10 different tip types, multiple cord lengths, plus accessories that all fit and work together. Pick your set and add to it—there is no end to the possibilities when you choose ADDI Click!

Made in Germany with a lifetime guarantee, the Addi Click interchangeable circular needle system includes Addi Turbo, Addi Turbo Lace, Addi Natura (Bamboo and Olivewood), and Addi Hook (Crochet) tips! The unique Click tips require no tools to change—just a quick twist and release.

---

ADDI needles come with a 100% Guarantee against defects when you buy from an authorized ADDI dealer like Fabulous Yarn!
What makes Addi Click so special?
The addiClick interchangeable needle set is the only complete system which provides a patented click-in tip that will never come unscrewed while knitting. No tools are required to make a quick tip change; simply insert the cord deep into the tip, twist and release. Thanks to the Click's revolutionary locking mechanism, the tips will remain secure until you choose to change them.
One connection does it all! All addiClick system parts are fully interchangeable. The complete system offers you seven tip choices (Original Turbo, Bamboo, Olive Wood, Standard Rocket, Short Rocket, Standard Rocket2 [squared], and Short Rocket2 [squared]) in sizes ranging from a US 4 to a US 19, 8 cord lengths, a multi-purpose connector, and even crochet hooks - providing you the opportunity to create just the right tool as you need it.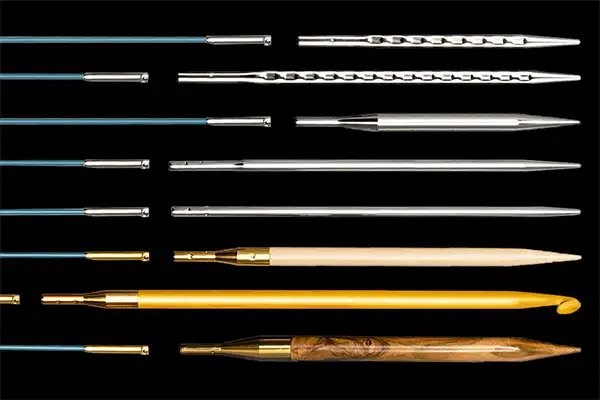 When purchasing addiClick Tips, remember that the length of both tips factors into the overall needle length when an addiClick Cord is attached. Thus, be sure to select the correct type of addiClick Cord for your addiClick Tip choice:
Turbo, Standard Rocket, and Standard Rocket² [squared] tips measure 5.0" in length; two tips will equal 10" of the overall needle length when a cord is attached.
Bamboo and Olive Wood tips measure 5.0" in length; two tips will equal 10" of the overall needle length when a cord is attached.
Short Rocket and Short Rocket² [squared] tips measure 3.5" i. length; two tips will equal 7" of the overall length when a cord is attached
MORE Addi!
Addi ROCKETS
---
Addi TURBO
---
Addi FLEXI FLIP DOUBLE POINTS
---
Addi WOOD KNITTING NEEDLES
---
Addi ACCESSORIES