$80.00 after FAB discounts applied at checkout (reg $100)
Is it a gift? Add gift wrap AT CHECKOUT!
---
Thought you had everything? Not! The first in the Addi Collectibles Series, this fabulous chunky needle (US15/32") has a center core filled with sparkling, twinkling Swarovski Cystals. A fantastic piece of knitting history and an incredible knitting gift for ANY knitter, young or old, experienced or beginner, it will inspire and delight! One size only, limited edition.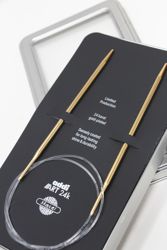 More about the Diamond Addi: US15 32" ADDI Turbo circular with a center heart filled with beautiful, sparkly, tinkly 'diamonds', the needle body is the classic, perfect ADDI turbo finish, with a center piece transformed into a diamond-filled tube. The package is boxed, and opens to present them as you would a Tiffany necklace, on a black, velvet pallet, inside an elegant centerfold section. The story of the needles is included, and the presentation is gorgeous. A wow factor of 10.
(Right) See also the Addi 24 karat Gold Art Collection Special!
ADDI CLICK INTERCHANGEABLE KNITTING NEEDLE SETS
---
---