$73.60-$112. after fab discounts applied at checkout (Reg $92.-$140.) + FREE U.S. SHIPPING OVER $75
---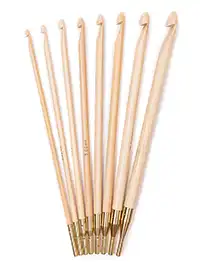 ALERT! These hooks are add-ons for your existing addiClick Interchangeable set. They are not a complete set and do not come with cables, or endcaps.
The addi Click Hook set is intended as an upgrade or "booster pack" to the existing Click sets. Or you can make a working set by adding cables (cords) and connectors. See links below!
---
These long hooks are great for Tunisian Crochet: learn more below.
---
Each set includes 8 Addi hooks: 3.75mm, 4.0mm (US F), 4.5mm (US G), 5.0mm (US H), 5.5mm (US I), 6.0mm (US J), 8.0mm (US L), and 9.0mm (US M) + a convenient travel pouch. (NOTE NO CORDS/ENDCAPS)
ADDI CLICK INTERCHANGEABLE KNITTING NEEDLE SETS
---
---
---
---
WHAT IS TUNISIAN CROCHET?
A cross between crocheting and knitting, producing a waffle-like fabric with a clean woven look and a trim border. Due to its denseness, Tunisian crochet is ideal for afghans and other cold-weather crafts. It's also sturdy enough for durable projects—think blankets, dish towels, etc.
The Tunisian crochet hook is a mix between a classic crochet hook and a straight knitting needle. It's longer in length than a classic hook, measuring between 10 to 14 inches long. The tool is smooth from the shaft down to its knob on the end, which prevents stitches from falling off.