$12.32 to $18.16 After Fab Discounts at Checkout (reg $15.40 - 22.70). Order by the Pair (whole sets $179-229) prices below BEFORE discounts: Discounts applied at checkout. Note: This is a stock item, if you need more than we have on hand, order what you need and we'll get your needles out to you within a few days. Needles priced by NEEDLE SIZE, not cable length.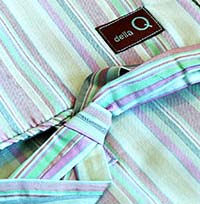 Add a Della Q Trifold Circular CasE
$52 + Free Shipping. Sorry no regular discount on this item, but yes save 5% Discount on orders over $75. Perfect way to organize and protect your circulars!
Knitter's Pride Karbonz Carbon Fiber Circular knitting needles
Knitters Pride Karbonz circular needles... Super strong, light-weight, flexible, warm touch, smooth finish, perfect points! Precision-designed and crafted in carbon fiber: one of the most durable materials available, known for its high tensile strength, also used in the automobile, aircraft and space industries. These needles have a special finish tip, super flex cable, and are the cat's meow—a new high-tech needle that really works! Available in 16, 24, 32 and 40 inch cable lengths.
We spent all election night knitting with these—they are lightweight, very comfortable, and eased a considerable amount of strain that got worse as the night wore on. We knitted with Artyarns Silk Essence on No. 3's and the yarn did not catch on the tip or cable join, and the silk was very controllable on the needle due to the light amount of traction on the carbon fiber. The yarn moved really smoothly, so it was perfect for Silk Essence because it is so fine and sleek. The cables are those wonderful Knitters Pride Flex cables, and I have nothing but good things to say about this new line of needles—except that I also want them in larger sizes!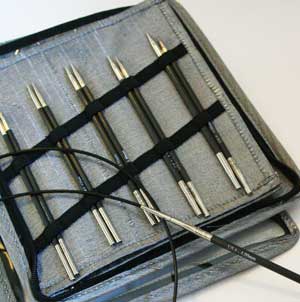 See also: Karbonz Carbon Fiber Deluxe Interchangeable Set and... Karbonz Starter Set
MORE Knitter's Pride NEEDLES
KNITTERS PRIDE CIRCULAR NEEDLES