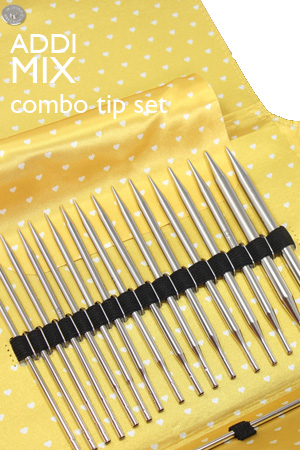 $169 On SALE - no futher discounts + Free Shipping) (Reg $225.90)
---
What's a MIX Set? Its an interchangeable set where each set of tips is actually two different types in the size - so the 9 tips are a mix of a turbo tip & a lace tip - so, you can use whichever tip is best for the type of knitting your current project requires. If you are doing a lace shawl that has both lace and stockinette, you can use the sharper rocket tips for the lace, and switch to the Turbo Tip for the stockinette. The combinations are endless!
Tip Sizes
Cords/Accessories
8 tips:
* 3.5mm (US #4)
* 3.75mm (US #5)
* 4.0mm (US #6)
* 4.5mm (US #7)
* 5.0mm (US #8)
* 5.5mm (US #9)
* 6.0mm (US #10)
* 8.0mm (US #11)


3 SOS / Lifeline Cords:
* 60 cm (24 inch)
* 80 cm (32 inch)
* 100 cm (40 inch)
1 Connector
Addi Heart Pin
Needle Size Gauge Carrying Case
The Addi Click system gives you flexibility, versatility, and portability. Multiple sets with different tip types, cord options, and accessories that all fit and work together. Pick your set and add to it - there is no end to the possibilities when you choose ADDI Click!