Della Q | TRIFOLD CIRCULAR KNITTING NEEDLE CASE (1145)
$52 + Free shipping on ALL Della Q + Extra Discounts on Della when your order reaches $50 or more!
---
Hey Ho Take your needles and GO! The Della Q Trifold Circular case keeps those circulars organized, protected, and ready to use.
See available colors below: if we're out of stock, you may preorder. Cottons are limited edition and may not be available when current inventory runs out.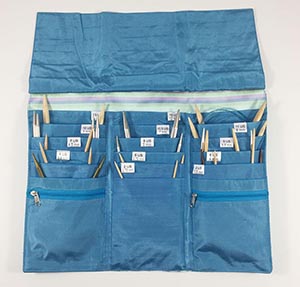 Della Q Trifold Circular Case
Size Closed: 5 X 11" | Open: 14 Wide 10.5 Tall
Fabric: Taffeta Silk/Poly Silk or Cotton
CONTAINS: Thirteen numbered pockets, five unnumbered + Two zip pockets for notions
HOLDS US Numbers: 2, 3, 4, 5, 6, 7, 8, 9, 10, 10.5, 11, 13, 15
HOLDS Metric Numbers: 2.75, 3.25, 3.5, 3.75, 4, 4.5, 5, 5.5, 6, 7, 8, 9, 10