$40.64 or less + Free Shipping (Reg $50.80) Discounts applied at checkout.
---

Knitters Pride WAVES Soft Grip Crochet Hook Set... Makes it easy to find the right hook! Each size marked on the handle and each handle a different color. Ergonomically designed handles let you crochet for hours in comfort, even for those with RSI or arthritis issues. The perfectly-sized hook comes in an attractive silver anodized finish that makes it easy to see your stitches in any color yarn. The set contains US size C, D, E, F, G, 7, H, I & J hooks, all in a cheerful Green or Pink case.
Knitters Pride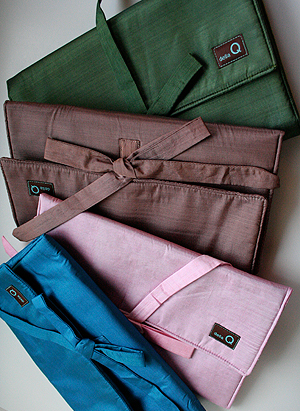 Knitters Pride makes unusual and exotic tools for knitters and crocheters. From Rosewood, to Nickel, to Swarovski Embellished tips, you'll find the tools that make your craft even more fabulous!
Want to dress up your KP Interchangeable Set? Try a Della Q or Offhand Design SWITCH cases! Della q interchangeable needle cases in pure silk protect your needles in style.