$86.48 or less + Free Shipping (Reg $108.10) Discounts applied at checkout.
---

An ideal gift for the knitter: A boxed set of 9 densified laminated Symfonie Rose Wood Interchangeable Needles in a leatherette case. Comes with an elegant Symfonie Rose Shawl Pin. Beautifully grained rose-tinted birch with rose-tinted fittings. These interchangeables feature screw-in cords and connectors. They LOOK like rosewood!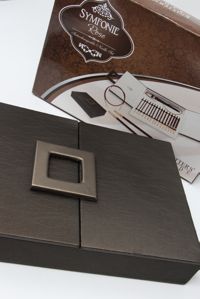 Elegant Symfonie Rose is rich in appearance, yet lightweight and strong; Metal join on needle is copper tinted and deep brown cords complement needle tips; Easy to connect cord with a smooth join that enables easy stitch glide and no snagging; Polished wood surface works effortlessly with every type of yarn without slowing down stitch rhythm; Resilient, flexible cords lay flat, with no kink or twist: easy to store.
includes 9 Tip Sizes: 3.5mm (US #4) , 3.75mm (US #5), 4.0mm (US #6) , 4.5mm (US #7), 5.0mm (US #8), 5.5mm (US #9), 6.0mm (US #10), 6.5mm (US #10.5), 8.0mm (US #11)
includes Cords/Accessories: 5 Cords: 60 cm (24 inch) x 2, 80 cm (32 inch) x 2, 100 cm (40 inch) x 1 2 Connectors, Endcaps, keys and stoppers + a leatherette gift case.
See also: More Knitters Pride Gift Sets
Knitters Pride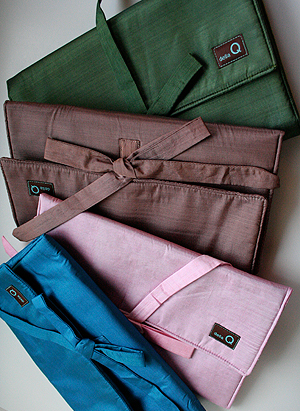 Knitters Pride makes unusual and exotic tools for knitters and crocheters. From Rosewood, to Nickel, to Swarovski Embellished tips, you'll find the tools that make your craft even more fabulous!
Want to dress up your KP Interchangeable Set? Try a Della Q or Offhand Design SWITCH cases! Della q interchangeable needle cases in pure silk protect your needles in style.