$8.80 to $16.00 After Fab Discounts Applied at Checkout (Reg $18-20) + FREE u.s. ship over $75. prices in pulldowns BEFORE discounts.
---
---
---
Note: If amount shows "0" the needles have been backordered and are arriving soon—contact us for latest update. When ordering sets sold out sizes will be backordered and shipped when back in stock.
ZEN LUXURY 7" CROCHET HOOKS IN EBONY AND ROSEWOOD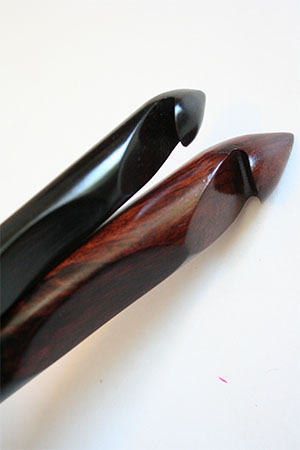 Above: our amazing crochet hooks playing with the yarn they were meant to work! At left, our beautiful hooks in ebony and rosewood. Below right, Rosewood.
Beautiful crochet hooks in Ebony and Rosewood in a perfect 7" length, indented on both front and back for comfort, perfect hook shape, both with an incredible hand-rubbed finish.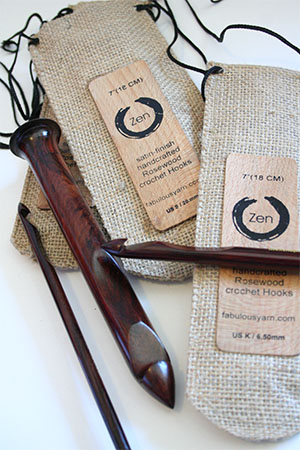 The woods are warm and lovely to the touch, and a beautiful tool to add to your collection. Shipped in a protective burlap travel case.
MORE ZEN NEEDLES