$25.20 ON SALE
(reg $36) + Free Shipping over $75! (US)
No further discounts on this sale item!!
Included with your purchase the Silk Essence Collection Pattern Booklet (5 one & two skein projects!)
100% Silk Lace 400 Yards/45 Grams
Size US3 Needles 7 St per inch/9 Rows per inch. Weight: Super Fine (1). Dryclean/Normal/Do Not Iron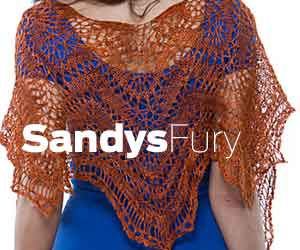 Sandys Fury is 1 of 5 beautiful 1 and 2 skein projects in your free download of the Silk Essence Collection!
Calyx (1 Sk)
Blooming Stitch Shawl (2 Sk)
Platte Cove Cami (Combo Pattern)
Below, Madli's shawl from Knitted Lace of Estonia in F4 Autumnal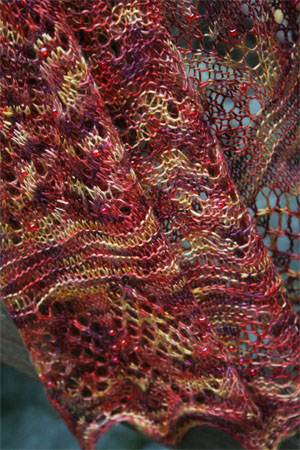 We highly recommend Addi Turbo Lace needles for this incredible yarn.
Fab's F Series Custom Colors & New Artyarns Colors
F1 Apple Harvest
F2 Silver Birch
F3 Thunder Storm
F4 Autumnal
F5
Cornfields
F6 Winter Bark
901
909 Cherry
916 Dusty Purple
927 Copper Tone
1015
Candy
1027 Spring Parfait
1028 West
1030 Klimt
1031 Frida
1032 Du Champ
New Artyarns HIGHLIGHTS Colors!
H1
Cherry Pop
H2
Peridot
H3 Sargasso Sea
H4 Scarab
H5
Violetas
H6 Burnt Orange
H7 Heart
H8 Gold
H9
Deep Greens
H10 Rose Umbre
H11
Black
Cherry
H12 Antique Ivory
H13
Emerald
City
H14
Cloudy
H15
Strawberry
Sundae
H16
Winter Bouquet
H17
Emerald Purple
H18
Citiscape
H19 Brown
& Black
H20
Dune
H21
Inky
Blues
H22
Verte
H23
Emeralds
H24
Wild
Berries
H25 Hot Coral Pink
H26
Tahiti
H27*
Cake
New!
H28* Citronella
New!
H29* Hot Coral Pink
New!
H30* Tutti
Fruiti
New!
H31*
Lilac Parfait New!
H32*
Go Green New!

H33*
Rushes
New!

H34*
Paradise
New!
H35 Wild Blue Yonder
H36 Lovely Lilacs
H37 Bashful
H38 Fleur
ARTYARNS 500 Painters Palette Series
501 Bonnard



502 Parrish
503 Hockney
504 Olana
505 0'Keefe
506 Wyeth
507 Van Gogh
508 Monet
512 Moore

514 Degas

516 Koons
| | | | | | | | |
| --- | --- | --- | --- | --- | --- | --- | --- |
| | | | | | | | |
| | Knitted Lace of Estonia | | Wrapped In Lace | | Knit So Fine | | |
| | | | | | | | |
| | | | Victorian Lace | | | | |
| | | | | | | | |
| | | | | | | | |
| | | | | | | | |
| | | | | | | | |
| | | | | | | | |
| | | | | | | | |