$32-52.80 or less after discounts applied at checkout + Free Shipping over $75 (Reg Price: $40-66)
---
Beautiful ceramic yarn bowls in stripes, polka dots and drip glazes. hand thrown, hand fired, hand made, these bowls keep your project handy, protected, and stylish! A totally Fabulous Gift for a knitter, made in the USA! Prices in menu before discounts.
---
---
See also special order option below.
SPECIAL ORDERS
If we're out of the bowl you want you can special order here and we'll ship it in 7-10 days subject to availability—we'll update you with delivery time.
---
About Pawley Studios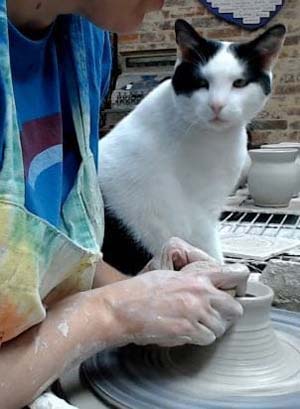 Amanda and Daniel Pawley started their work together in college at Western Kentucky University. After graduation, they begain the steps to create art they way thy saw fit. Pawley Studios is the current culmination of that work. "I get to work with my best friend and travel the country, it's not a bad gig if you can get it!" says Daniel. The Pawleys created a production studio in the downtown square of Russellville, Kentucky. They use this location for their wholesale business to many knitting shops across the country and to promote the arts in a local atmosphere.