Order here and pick 2 colors Artyarns Merino Cloud or Ensemble Light!
$105.60/54.20 or less after discounts
(msrp $132/64)
+ Free Shipping over $75! (US)
(Fab discounts of up to 30% off applied at checkout)
This kit may be ordered in either the Merino Cloud (Merino/Cashmere) or Ensemble Light (Cashmere/Silk)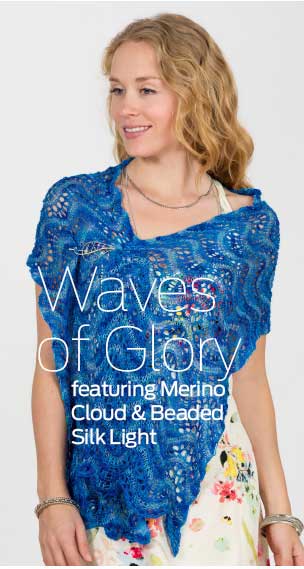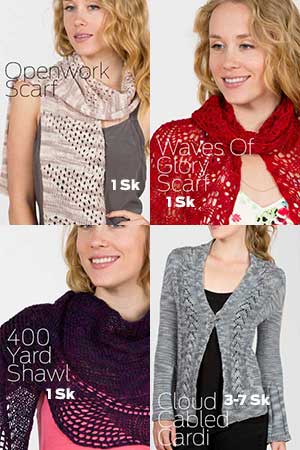 Free download with any merino cloud purchase, the Merino Cloud Book features four beautiful patterns, including the waves of glory shawl, shown below in h35 in Merino Cloud & H35 Beaded Silk with Sequins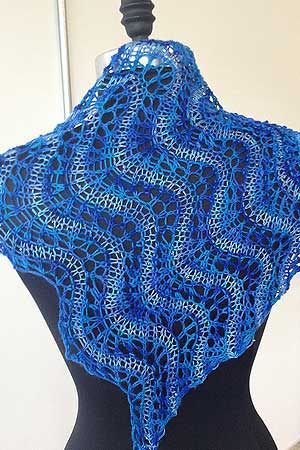 The Waves of Glory Shawl, featuring 1 Skein of Merino Cloud, and 1 Skein of Beaded Silk and Sequins light. Shown above in H35. Free download with your purchase of Merino Cloud.
| | | | | | | | | | | |
| --- | --- | --- | --- | --- | --- | --- | --- | --- | --- | --- |
| | | | | | | | | | | |
| 601 Pinto | | 602 Watercolor | | 603 Colorburst blue | | 604 Cherry Splatter | | 605 Fruit Salad | | 606 Peach Floral |
| | | | | | | | | | | |
| 607 Jet Stream | | 608 Blueberry Scramble | | 511 Texas | | 513 California | | 523 New Mexico | | 925 Bronze Goddess |

The Cosmic Colors Palette
CC1 Queen Blue
CC2 Hippie Multi
CC3 Dream Child
CC4 Golden Mean
CC5 Purple People
CC6 Dark Magic
CC7 Palomino
cCC8 Pink Steel
CC9 Starburst

Highlights Series (H Series Colorways)

H38 Fleur
H37 Bashful Pink
H36 Lovely Lilacs
H35 Wild Blue Yonder
H34 Paradise
H33 Rushes
H32 Go Green!
H31 Lilac Parfait
H30 Tutti Fruitti!
H29
H28 Citronella
H27 Cake
H26 Tahiti
H25 Hot Orange Pk
H24 Wild Berries
H23 Emerald
H22 Vertes

H21 Inky Blues

H20 Dune
H19 Charcoal Browns

H18 Grey Tonal

H17 Emerald Purples
H16 Winter Bouquet
H15 Straw. Parfait
H14 Cloudy
H13 Emerald City
H12 Antique Ivories
H11 Black Cherry
H10 Antique Rose
H9 Forest Greens
H8 Gold
H7 Heart
H6 Burnt Oranges
H5 Violettas
H4 Scarab
H3 Sargasso Sea
H2 Lime
H1 Hot Pinks
Scroll Down for MORE Fabulous Artyarns Colors!
500 Painters Floral & 1000/2000/3000 Tonal/Multis Series
501 Bonnard
502 Parrish
503 Hockney
504 Olana
505 O'Keefe
506 Wyeth
507 Van Gogh
508 Monet
512 Moore
514 Degas
516 Koons
1028 West
1030 Klimt
1031 Frida
1032 Du Champ
2234 Pale Jade
2234 SE Ocean Jade
2220 Pink Grapefruit
2334 Miles
2285 Wild Fern
3324 Jade Princess
2300 Cranberry Royale

900 Stonewash Series Colors

901 Brilliant Turquoiwse
902
Turquoise
Wash
903 Dusk
904 Mood RIng

905 Jolly Rancher

906 Elizabeth
907 Teal Berry Splash
908 Dennim Splash
909 Cherry Wash

910 Hot Cherry Splash

912 Dark Cherry
913
Chartreuse
914 Citiscape
915 Cherry Splash
916 Plum
917
Coppertone
918 Stonewash Emerald
919 Adobe
920 New Leaf
921 Teal Watercolor

923 Lady Gaga

924 Gold Tonal