Wool and The Gang Crazy Sexy Wool
$17.60 or less after fab discounts (REG $22) Discounts will apply to this item at checkout -Free shipping on orders over $75 at checkout
---
We're soooo happy to have Wool and The Gang in the house! This super-bulky wool, spun and sourced out of Peru, is soft, sexy and knits up in a flash—and the colors are out of this world! Note Crazy Sexy is perfectly suited to pair up with Cascade Magnum, so you can mix and match from both yarns for an every-expanding color palette, and the patterns are also interchangeable!
Crazy Sexy Wool comes in bags of 5, and we usually have up to 5-10 skeins in the same dyelot on hand. If you need more than what's available you can Special order Crazy Sexy Wool.
Wool and The Gang Crazy Sexy Super Bulky Wool
FIBER: 100% Wool
LENGTH/WEIGHT: 80 metres (87 yards) per 200 gram ball
GAUGE: 7 stitches + 10 rows per 10 cm / 4"
NEEDLE SIZE: 10mm-25mm (US15-50)
SUGGESTED CROCHET HOOK: 8mm-12mm
YARN WEIGHT: Super Bulky | 5wpi
WOOL AND THE GANG PATTERNS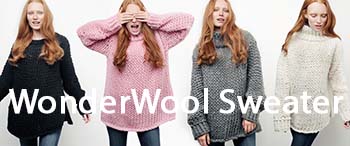 Free Download with your purchase: Wonderwool Sweater: 5/6 Skeins, US17 & US50 Needles
We recommand BASIX.