Artyarns inspirations club
LIMITED EDITION! September 2019 color: Transitions
Septembers Inspiration club color is called Transitions! A fabulous blend of cremes, cocoas, golds, with highlights of sage and purple, this colorway reflects the changing seasons here in NY, with the even sky colors melding into the lovely, ever-changing treescape and mountains.
Inspiration Club Colors come in multiple great Artyarns fibers: Merino Cloud, Beaded Silk Sequin Light, or Silk Day Dream fingering. Free project patterns included as a download - Swipe down to see pix + details bottom of page.
Want more Inspiration? JOIN the Artyarns Inspiration Club to get latest color updates and be able to RESERVE your skeins in advance. New colors arrive every other month in limited quantities: once they're gone, they're gone! Advance order Limited edition colors shipped bi-monthly as they're painted.
Click button to join the club:
ARTYARNS INSPIRATION CLUB PATTERNS for SEPT 2019 (Transitions)
All patterns are included with your purchase as an instant download.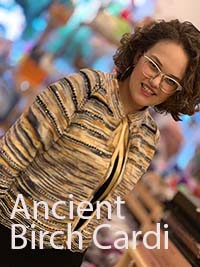 2 Versions: One is a three fiber version:
3 Fiber Version: 2 Skeins merino cloud Transitions Color, one Silk Day Dream & Bssqlt in Transitions Color, 1 contrast color (2246) in the Merino Cloud.
2 Fiber Version: 2 (3) of the merino cloud in Transitions Color, 1 each of the Beaded Silk & Sequins Light in transitions and 1 Merino Cloud in the 2246


ARTYARNS MERINO CLOUD SPECS
FIBER: 80% Fine Merino 20% Cashmere
LENGTH: 437 yards/400 meters/100g
GAUGE: 5.5 sts = 1 inch (FINGERING/LIGHT DK) on US 5 Needles
SOURCE: Italian Merino & Cashmere
CARE: Dry clean or hand wash with AIR DRY LAYING FLAT
BEADED SILK & SEQUINS LIGHT SPECS
FIBER: 100% Silk with Beads & Sequins
LENGTH: 50 grams 100 meters/110 yards
GAUGE: 5 Stitches per inch on #6
CARE: Dry clean or hand wash / AIR DRY LAYING FLAT
SILK DREAM(Glitter)/Silk Dream (No Glitter) SPECS
FIBER: 100% Silk fingering, handpainted in 2 plies with or without a single ply of glitter
LENGTH: 400 Yards/90 Grams
GAUGE: Size US3 Needles 7 Stitches per inch/9 Rows per inch. Weight: Super Fine (1ace). Dryclean/Normal/Do Not Iron
SOURCE: HAND-MADE in the US from imported japanese silk
CARE: dry clean/handwash. AIR DRY LAYING FLAT. Do Not Iron