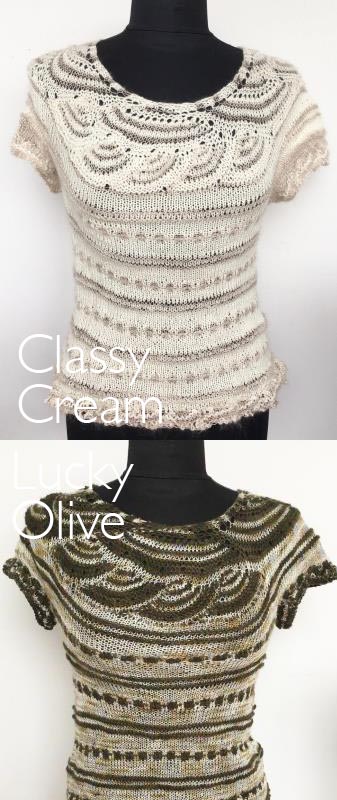 $62.40-159 after fab discounts applied at checkout (reg $78-$198)
---
Straight from the Artyarns Chainlink Knitalong, a new design by Iris for a glamorous top using the fabulous Drama Queen Merino Cloud + Silk Mohair Glitter Combination. Originally created as part of a knitalong on Ravelry, this fabulous Knit Kit now available with yarn and pattern.
project includes the DRAMA QUEEN Kit. Learn more about this kit here: CHAIN LINK KNITALONG ON RAVELRY. Checkout the other projects you can make with this kit: the Drama Queen Shawl and the Chain Link Shawl!
TOP SIZES:
Xsmall/Small: 1 Drama Queen Kit w/ 1 sk merino cloud + 1 Silk Mohair Glitter
Medium/Large: 1 Drama Queen Kit w/ 2 sk MC + 1 SK SMG
1XL: 2 Drama Queen Kits W/ 2 sk MC + 2 SK SMG
2XL: 2 Drama Queen Kits + 1 extra skein of Merino Cloud W/ 3 SK MC + 2 SK SMG
DRAMA QUEEN/CHAINLINK SPECS
KIT USED: This Knitalong uses one DRAMA QUEEN kit.
FIBER: A combination of two fibers, merino cloud (Cashmere & Merino) and Silk Mohair Glitter (Silk Mohair with Glitter)
Gauge: Fingering weight Light dk 2 ply
LENGTH: 80% Fine Merino 20% Cashmere 436 yards/400 meters/100g 5.5 sts = 1" (DK) on US 5 Needles
NEEDLES NEEDED: KNIT | US5 - suggested size only, works well on all sizes of needles depending on effect desired.
CARE: Dry Clean
ALTERNATE 2nd YARNS for custom build: Yes, you can substitute SILK MOHAIR OR SILK ESSENCE for SILK MOHAIR GLITTER. If purchasing your own yarns for this project just add a note at checkout and we can send you the pattern!