The followup to their fantabulous Jumbo Circular Knitting Needles, these single points are the cats meow. Again, yes, they're just NEEDLES - just what you need to get a job done. But these beautifuly turnedl Maple Single Point sets are gorgeous. Each one handmade by woodworking artisan Ed Jenkins, these are beautiful to hold, with just enough traction to keep even the slipperiest yarns on the needles, and are available from sizes 13 - 50 in 10 & 14" lengths.
Needle Lengths: 10" & 14"
Needle Sizes: 13, 15, 17, 19, 35, 50
$28.00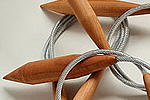 Like these? Then check out Jenkins beautiful Maple Jumbo Circulars
!