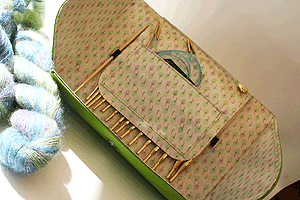 Shown above - the interior of the Addi Click set in Bamboo - features a smooth, patented finish that gives you the extra slipperyness that lets you knit quickly, but you get the feel of bamboo - a favorite for many knitters.
Compare
Interchangeable Sets
ADDI CLICKS - nickel plated, hollow, light with the famous addi finish
ADDI CLICK BAMBOO - famous ADDI finish, click closure, but with a natural touch, for those who prefer bamboo
ADDI CLICK - LACE The new lace points are slightly finer, and the range of sizes and lengths tend longer and smaller for those who focus on lace or detailed patternwork.
Addi Click - Lace with Long Tips
The newest member of addis family - this set features longer tips for ease of handling, with the same extra-fine tips for fine yarn work. In a FABULOUS pink case, too. This sets fits right inside the Della Q Interchangeable Kit Set, too!
KA Bamboo SWITCH - (Screw Joins) A natural bamboo set that act and feel more like 'regular' bamboo needles, not as slippery as the CLICKS - also, quite a few more cables in this set, with a fabric case available in a choice of patterns
Lantern Moon Rosewood and Ebony Interchangeables I have to admit, I love these - I mean, I love the ADDIS, too - but for me, there is just nothing like the feel of Rosewood or Ebony - and Lantern Moon has perfected a finish on these sets that makes them just a Joy to knit with - just slippy enough, but the right amount of traction, and the tips are just the right amount of sharp. Great range of sizes, from 3 to 13! Amazing!