Interchangeable Knitting Needle Sets, Tips, & Cords

Addi CLICK Interchangeables
(Regular, Lace, Bamboo, Long Tip)

Knitters Pride
DREAMZ Interchangeables

Knitters Pride
CUBICS Square
Interchangeables



Knitters Pride NOVA Deluxe Set
Lantern Moon Interchangeables

(In rosweeod or ebony)

KA Switch Bamboo Interchangeables
Are you a metal needle person? Do you prefer wood, or bamboo? Sharper tip? Screw on or click? Everyone has their own knitting style - that's why we carry a full range of interchangeable needle sets.
We've tested and used all these sets - & we'd love to help you find the one that fits you best!

Looking for the perfect Knitting Gift?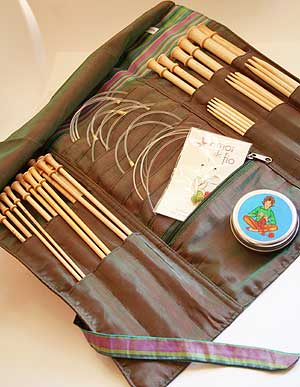 Looking for a gift? Our Knitters Toolkit is a great one - filled with lots of needles and knitknacks for the beginning to expert - all wrapped up in a Della Q Combination Knitting Needle Case!
Circular Knitting Needles by Addi, Lantern Moon, NOVA, CLOVER & FAB!

Addi Turbo Circular Knitting Needles

Addi Turbo LACE Circular Needles

Hi Speed Nickel Circulars with Super Flex Cords
$6.49-12.99

Hi Density Carbon Fiber Needles from Knitters Pride
Knitters Pride BASIX Jumbo Circulars
Knitter Pride DREAMZ Circulars
Single Point Needles in Rosewood, Ebony, Surina and Maple Needles
Lantern Moon Luxury Knitting Needles (Single point, circular and Sox Stix DP's)
Knitters Pride Color Finished Single Point Needles in 10" and 14" Lengths
Brittany Knitting Needles: Single Point
Surina Swivel Top Wood Knitting Needles
Jenkins Jumbo Handmade Maple Straight Needles $28

Double Point Needles and Sock Needles

Blue Sky Rosewood Double Points in a gift tin. 28.00
Surina Wood Double Point sets in 5 & 7 lengths
Brittany double point needles in birch
Fabulous Lantern Moon Sox Sticks in a beautiful silk sack $21 - 22

Crochet Hooks & Cable Needles

Brittany Crochet Hooks in smooth and warm Birch
Lantern Moon Crochet Hooks in Ebony And Rosewood
Surina Wood Swivel Top Crochet Hooks
Knitters Pride DREAMZ Symphonie wood Crochet Hooks
Cable needles in Rosewood or Ebony. Three sizes in a set
Surina Jumbo Circular Needles | Lantern Moon Knitting Needles | Lantern Moon Crochet Hooks |Brittany Birch Knitting Needles | Brittany Birch Crochet Hooks | Clover Bamboo Knitting Needles, Brittany double pointed knitting needles, Clover Circular Knitting Needles, Knitting Needle sets, Bamboo Sister Interchangeable Needle Set, Knitting Needle Travel Sets | Needle Conversion Chart