| | |
| --- | --- |
| | |
| | ADDI Click Basic Set shown above: The original Tip, with the famous ADDI Nickel Plated Finish, great for any knitting project! |
This fantastic interchangeable needle sets give you what you need - lots of tips, from 3 - 5 cords, and a choice of metal, or bamboo, and a choice of regular point, lace point (extra sharp) or Lace Extra Long tips. Add A Della Q or Offhand Case, and take two sets along with you and never be without the right needle again! Each of these sets comes with a free gift (see below) AND free shipping!

Addi CLICK Basic Interchangeables
Addi CLICK LACE Interchangeable Needle Set


(Sharp Lace tips, Shorter Length)

Addi Lace
Long-Tip
Interchangeables


(Sharp Lace Tip, longer for knitting comfort)

Addi CLICK Bamboo (Natura)


(Soft & Comfortable Bamboo tip)




Every ADDI Click Case purchase automatically includes a free Gift: a set of Project Pouches, a Della Q Interchangeable case or a set of cords (3 pack 24/32/40 on each) TAKE YOUR PICK! It's on US!
Want to dress up your Addis? Try a Della Q or Offhand Design SWITCH cases! Both designed for Interchangeables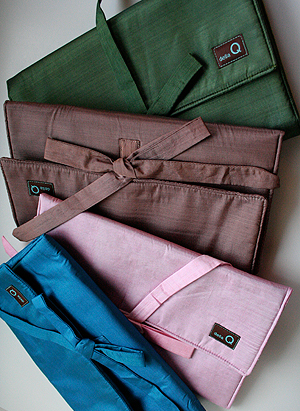 Della Q's cases in pure silk protect your needles in style.

Offhand Designs brocades and flocked velvets are a fabulous way to tuck your interchangeables into whatever bag you happen to be carrying.
e QUE circular needle case....