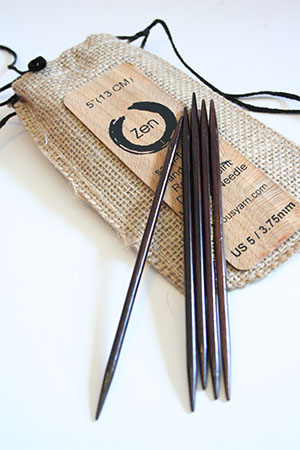 $12.00 or less.00 After Fab Discounts at Checkout
5 inch Zen rosewood double pointS
(5 to a set)
Choose SizeS:
---
---
Our Exclusive (yes, we designed them and had them made) Lustrous ZEN needles are truly unique. From their special soft triangular shape to their very special inlay top, a true luxury knitting needle. In this short length - they are great for everything - from socks to hats!
The beauty of natural hand-polished wood knitting needles
Hand polished Rosewood in a dark mahogany red tone with some grain, these beautiful needles are wonderfully light and the finish & tips are perfect. These Rosewood double points come in 7" - great for socks, hats, sleeves, legwarmers, wristies, and, well, you name it! And, of course, they are beautiful to hold, with a silky and unique sheen that comes from a special handwax process used by the family making these, polished to a beautiful shine.
The tips are just right, and they come in a custom storage pouch to product them. These needles are very special, and we know you'll love them as much as we do! These are hand made by a small family craft company in India, and the quality is beautiful. You will cherish these needles.
MORE ZEN NEEDLES