Discontinued product, please lots more KP needle sets here!
---

The 16 inch set extends your possibilities with 7 tips and 2 16-inch cords so that you'll never be without a set to make something in these very popular sizes! Set includes 7 tips, cords, connectors and a case. elebrate the beauty of Paris with The Knitter's Pride Royale Special Interchangeable Circular Needle Set! The set features special tips that are shorter than the standard tips, specially designed to produce circulars in 16" lengths when combined with the 16" cable.  Each interchangeable needle tip is made from colorful wood with shiny chrome-plated brass tips adorning the ends of the needles. Each size comes in its own unique color, making it easy to identify.  The unique combination of wood and metal not only gives a refined look to the needles but also provides an incomparable knitting experience. The cables and connectors are carefully packed in a stylish Paris-themed case made in smooth silky fabric. It's best to tighten your needles by holding the base. 
This set includes:
-7 pairs of  4" (10cm) tips in US sizes 4 (3.5mm), 5 (3.75mm), 6 (4.0mm), 7 (4.5mm), 8 (5.0mm), 9 (5.5mm), and 10 (6.0mm)  
- Two 16" cables
- 4 end caps
- 2 cable keys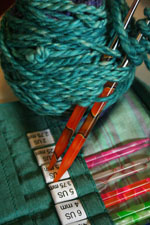 How tips look in Della Q's Interchangeable Travel wallet (at right).
includes 7 Tip Sizes: 3.5mm (US #4) + 3.75mm (US #5) + 4.0mm (US #6) + 4.5mm (US #7) + 5.0mm (US #8) + 5.5mm (US #9) + 6.0mm (US #10)
includes Cords/Accessories: 2@ 16 inch Cords: plus Size Markers, 2 Connectors, 4 Endcaps, 2 Cord keys and a Royal Paris Zip Case w/ tip pockets.
See also: Knitters Pride Royal Paris Special Edition Interchangeable set
Knitters Pride
Knitter's Pride makes unusual and exotic tools for knitters and crocheters. Whether Birch, Nickel, Carbon Fiber or their Mindful collection, you'll find the tools that make your craft even more fabulous!
---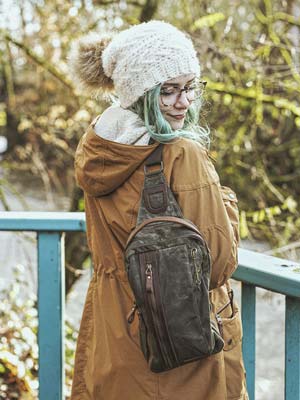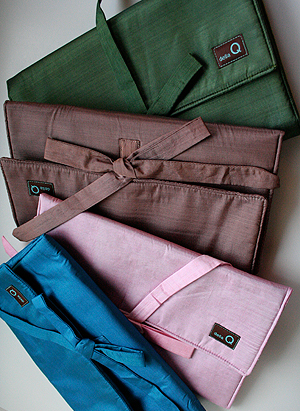 Travelling with your KP Needle Set? Try a new Della Q Maker's case (left), or take along a Della Q interchangeable needle case (right) to protect your needles in style.