$84.95 (Reg price–sorry no discounts allowed on this item) + Free U.S. Shipping over $75
---

Offered with 8 popular sizes in 10" circulars are perfect for socks and other small projects. More fun for all those who like using fixed circulars, the Explore set is offered in a smart round case that can be folded to the quarter of the open case size.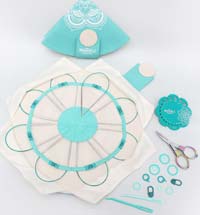 The artistically designed case shows off the needles through translucent fabric with the needles appearing like a flower in bloom. The collection of accessories includes useful tools such as darning needles, 50 stitch markers, gauge and a pair of foldable scissors.
includes 8 Sizes 10" Circulars: US: 0, 1, 1.5, 2, 2.5, 3, 4, 6 (MM: 2.00, 2.25, 2.50, 2.75, 3.00, 3.25, 3.50, 4.00)
includes Accessories: 1 Needle Gauge, 2 Darning Needles, 10 Locking Stitch Markers, 10 Split Stitch Markers, 30 Round Stitch Markers, Pair of Scissors + Fabric case with floral motif.
See also Knitters Pride Mindful Gratitude interchangeable Knitting Needle Set