Made for makers by makers! Besides being crafted from high quality materials, each della Q bag comes standard with maker-minded features like a yarn feeder, yarn cutter, dot journal, darning needle, separated sections for your WIPs, and even emergency stitch markers! Great replacement for the old Namaste Maker bags!
Each bag features lightweight and durable canvas and is accented with antique brass hardware.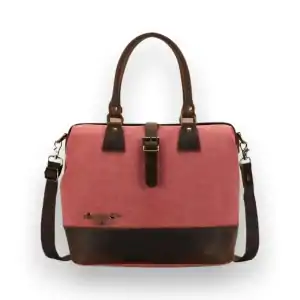 Every piece has been crafted with a focus on utility, sustainability, and timeless design.
New for summer 2023! MadelineTosh + Della Q Canyon Rose Limited Edition Maker's Bags (right).
Maker's Features
STITCH MARKERS
Each Canvas Maker's Bag comes with an antique bronze decorative safety pin that doubles as a stitch marker holder! Three lotus stitch markers come standard for easy making and marking on the go.
---
YARN FEEDER
Made with makers in mind, each bag in our Lotus Collection includes a patent pending yarn feeder to make crafting on the move as easy as k1p2.
---
YARN CUTTER
"Break your yarn"?? No need. A yarn cutter comes standard in ALL Lotus Collection bags.
---
Water Repellent
All Maker's bags were created in canvas that has been specially cured with a wax coating, making them light weight, water repellent, and functional for years to come.
---
Durability
Rugged yet refined, all canvas bags are made to handle the wear and tear of everyday crafting. With genuine leather accents and a natural patina that will evolve over time, each bag will age gracefully the more it's used.