$29.95 (Reg price–sorry no discounts allowed on this item) + Free U.S. Shipping over $75
---

Row or Stitch counting has never been so easy, or so glamorous! An ingenious patented counting tool made from hypoallergenic Stainless Steel, handy to wear and offered in 6 popular ring sizes (US7 - US12). In a pleasant shade of teal with easy-to-read white numbering. Makes a great gift!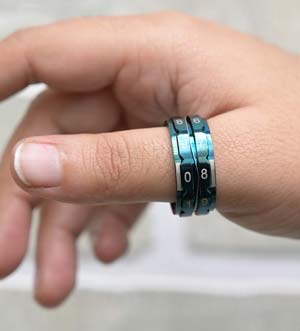 Ring Sizes*
Size (Inner Diameter)
Codes

---

Size 7 (17.3mm)
800671
Size 8 (18.2mm)
800672
Size 9 (19.0mm)
800673
Size 10 (19.8mm)
800674
Size 11 (20.6mm)
800675
Size 12 (21.4mm)
800676
See also Mindful blocking pin and mat set
---
*Sizing tip: Take a ring that already fits your finger well, measure the inside diameter of your ring with a metric (MM) ruler (straight across the *inside* of the ring from edge to edge), then compare measurement to chart above to find your size.