Della Q | interchangeable needle case
$38 + FREE SHIPPING
---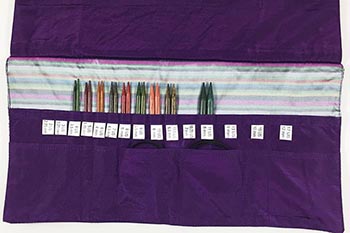 This wallet size case is perfect to store your Dreamz, Novas, Addi Clicks or any other interchangeable set. You have a case already? Where are you storing those extra tips we know you bought? There is space in this case. The case folds in quarters and ties securely. A zip pocket on the side stores your connectors or tools.
Scroll down to see all available colors: Please note, if we are out of stock, you may preorder - The cottons are limited edition and may not be availalble when the current inventory runs out!!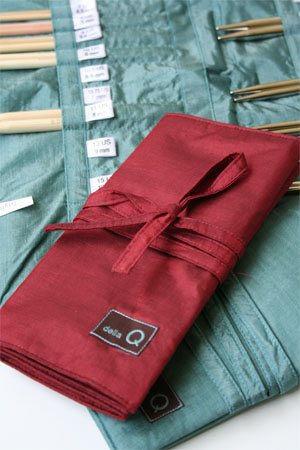 Have two sets of interchangeables? Try the Della Q Double Interchangeable (we have actually gotten 4 sets in the double! :)
Della Q 185 Interchangeable Needle Case
FIBER: Poly-Silk or 100% Cotton
DIMENSIONS: Closed: 4" x 7.25" / Open: 15" x 7.25"
POCKETS: Fifteen numbered pockets for tips, five additional unnumbered + Four unnumbered pockets for cords + Zip pocket for connectors and tools
HOLDS NEEDLES SIZES: US Numbers: 2, 3, 4, 5, 6, 7, 8, 9, 10, 10.5, 10.75, 11, 13, 15, 17 (Metric Numbers: 2.75, 3.25, 3.5, 3.75, 4, 4.5, 5, 5.5, 6, 6.5, 7, 8, 9, 10, 12) / Pocket depth of 3