$77.28 or less + Free Shipping (Reg $96.60) (Discounts will apply at checkout)
---

Makes a great gift! Knitters Pride fabulous limited edition Melodies of Life Interchangeable Needles gift set - this set is a tinkly joy: 9 tips (4 - 11, includes a 10.5) in color-coordinated anodized aluminum (Zing Tips) with chrome ends and a perfect point. Gorgeous to look at! In a beautiful gift box with cords and a fabulous Musical Themed Accessory Pouch.
includes Tip Sizes: 3.5mm (US #4) + 3.75mm (US #5) + 4.0mm (US #6) + 4.5mm (US #7) + 5.0mm (US #8) + 5.5mm (US #9) + 6.0mm (US #10) + 6.5mm (US #10.5) + 8.0mm (US #11)
includes Cords/Accessories: 4 Cords: 60 cm (24 inch) x 1 + 80 cm (32 inch) x 2 + 100 cm (40 inch) x 1 + [2 Connectors, 8 Endcaps, 4 Cord keys and stoppers, accessory Pouch & matching earrings]
Knitters Pride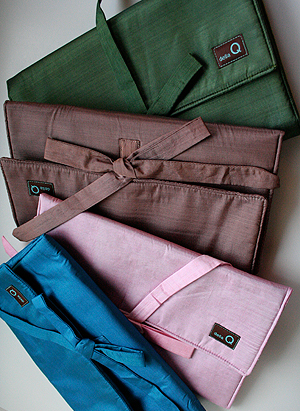 Knitters Pride makes unusual and exotic tools for knitters and crocheters. From Rosewood, to Nickel, to Swarovski Embellished tips, you'll find the tools that make your craft even more fabulous!
Want to dress up your KP Interchangeable Set? Try a Della Q or Offhand Design SWITCH cases! Della q interchangeable needle cases in pure silk protect your needles in style.