$189.96 + Free U.S. Shipping!
---

The Mindful Collection is defined by Gratitude, a set that is offered in 14 sizes including 1 free size. The stainless steel needle tips are offered in a circular fabric case carrying the floral design using the theme colors of the collection. (See also the smaller 5" set Believe.)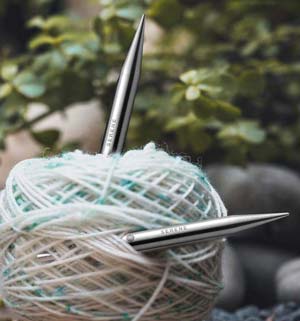 Crafted of superior grade stainless steel, each pair of finely tipped needles carries an inspirational word (click detail right) to aid the knitter in mindful concentration. The swivel top cords make for easy turning of work.
Offered with 6 smart cords (in both swivel and fixed mechanism) with lifeline holes and an unparalleled selection of accessories that are packed in a detachable multi-purpose pouch. Each needle compartment is labeled with size so finding or storing the right needle will never be a chore again.
CORDS: 3 Swivel Cords (360 degree rotational): 1 cord each of 24", 32" & 40" + 3 Fixed Cords: 1 cord each of 24", 32" & 40"
includes Accessories: 6 End Caps, 4 Cord Keys, 1 pair of Cord Connectors, 1 Needle Gauge 2 Darning Needles, 10 Locking Stitch Markers, 10 Split Stitch Markers, 30 Round Stitch Markers + Fabric case with floral motif.
includes TIP SIZES: US: 2.5, 3, 4, 5, 6, 7, 8, 9, 10, 10.5, 10.75, 11, 13, 15, 17 (MM: 3.00, 3.25, 3.50, 3.75, 4.00, 4.50, 5.00, 5.50, 6.00, 6.50, 7.00, 8.00, 9.00, 10.00, 12.00)
---
See the similar Mindful Warmth Interchangeable Needle Set with 4" tips and also the Mindful Circular Needle Set