$112.48 or less + Free Shipping (Reg $140.60) Discounts applied at checkout.
---

Set of 13 Ginger Interchangeable Circular Needles (26 Laminated Birchwood Tips/13 sizes: 2 needle tips in each size /Tips are 4.5in length) in a beautiful leather needle case with pattern holder in denim and beige finish. Side toggles allow the case to act as a stand for the needles.
Includes needles in 13 sizes to cover all yarn weights + Six cords in a variety of lengths for all type of projects + One set of cord connectors to combine cords for longer lengths + Matching Pen for marking pattern rows while working.
includes 13 Tip Sizes: US 3 (3.25mm), US 4 (3.5mm), US 5 (3.75mm), US 6 (4mm), US 7 (4.5mm), US 8 (5mm), US 9 (5.5mm), US 10 (6mm), US 10.5 (6.5mm), US 11 (8mm), US 13 (9mm), US 15 (10.0mm), US 17 (12mm)
includes Cords/Accessories: 6 Cords 2@ 24" + 2@ 32" + 2@ 40" plus 12 Endcaps, 6 Cord keys, stitch markers, magnets, connectors, 1 pen and a leather needle case.
See also: More Knitters Pride Needle Sets
Knitters Pride
Knitter's Pride makes unusual and exotic tools for knitters and crocheters. Whether Birch, Nickel, Carbon Fiber or their Mindful collection, you'll find the tools that make your craft even more fabulous!
---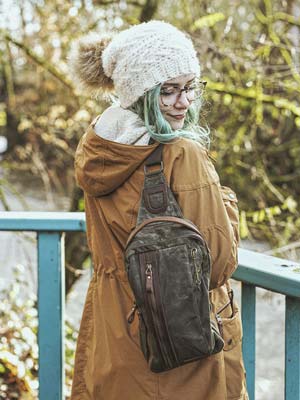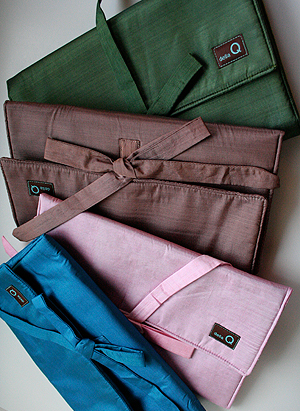 Travelling with your KP Needle Set? Try a new Della Q Maker's case (left), or take along a Della Q interchangeable needle case (right) to protect your needles in style.