$19.50 on sale
(reg $26.00)
no further discounts on this sale item - Free shipping over $75)

100% Brushed Baby Mohair
50 Grams/222 Yards
14 St and 20 Rows over 4" on US 10 Needles
Hand Wash, lay flat to dry, do not dry clean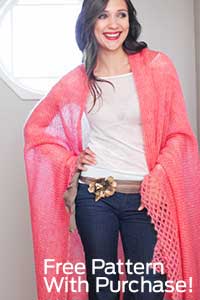 This beautiful Shawl (3 sk shown in poppy!) , or it's big sister (sk), the Wrap is a beautiful project with Medium Brushed Mohair. Free Download with any purchase of Brushed Mohair from Be Sweet.
Larger images may be seen by clicking the swatches below, but please come back to this special deal page to order!
Heather
Light Grey
Navy
Pale Mauve
Indigo
Dark Camel
Hyacinth
Lime
Amethyst
Mauve
Poppy
Ash Pink
Wheat
Sand
Linen
Chocolate
Mink
Taupe
Olive
Buttercup
Apple
Dark Blue Plum
Green Potion
Dark Grey
Tomato
Burnt Orange
Emerald
Black
Natural
Turquoise
Charcoal
Lichen
Baby Pink
Mink