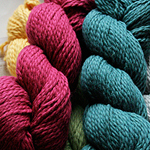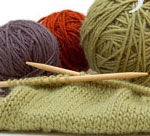 What defines yarn as a worsted weight? Well, that's an interesting question.

Traditionally, worsted weight yarn is meant to be a medium weight yarn which knits up at a gauge of 4-5 stitches per inch, on a size 8 needle. It's an all purpose weight yarn - the most commonly sold, used and knit with the world over. But here's the thing: There are light worsteds, and there are heavy worsteds- there are single ply worsteds, like malabrigos worsted weight merino wool, and there are four ply worsteds, such as madelinetosh's Tosh DK. The current nomenclature that is being used states that worsted weight is a number 4 weight yarn. DK being 3, and chunky being 5, as defined by the Craft Yarn Councils Standard Yarn weight system. Not everyone uses this - but it's a good indicator that you are in the ballpark if the label says 4.

Most importantly, to get a worsted weight yarn - you need to get the right gauge. You can adjust your gauge by changing your needle, but for a worsted to really be a worsted you need to be able to pick up a US size 8 needle (5mm) and knit at 4.5-5 stitches per inch. That is a true worsted yarn gauge, and it's why knitting a gauge swatch for any project is so important.

All of the yarns listed fall into the category of worsted - but you'll need to test all of them - your own knitting style - tight, loose, even or not - will determine what your final gauge is, and you'll need to adjust your needle size (or your caffeine intake) to be sure you can get the gauge you need for your project.