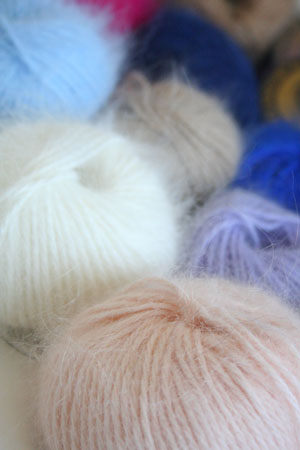 Belangor is the most elegant angora ever. It is french born and made, and for commercial angora, comes from from the only breeder left in France who humanely grooms his rabbits.
Don't be fooled by other lesser quality Angora blends, this is THE authentic Belangor™ French Angora. This decadent luxury fiber comes in a variety of gorgeous, luminous shades.
Extremely warm, this lighter than air yarn feels sumptuous against the skin, and is a favorite for cowls, hats, mittens and scarves. Galler Yarns has imported this yarn continuously since 1951. In 2013 this pure natural yarn, made from fibre hand-combed from carefully tended Angora rabbits, was officially designated as an Artisan Product in France.
Gauge depends on needle size - this can be knit as a DK or worsted, in a dense fabric or an open almost lacey one. Swatching can help determine correct gauge for your project; the swatch yarn can be re-used if undone gently. Every beautiful, adorable ball is it's own little ball of delight!
$8.80 or less* (msrp $15.00)
+ Free Shipping over $50! (US)
(Up to 30% off *Fab discounts applied at checkout)

Content: 100% Artisanal French Angora Rabbit Hair – Hand-combed - humanely harvested. Made in France Weight: 10 grams
Length: 33 yards
Gauge: 4 stitches per inch
Suggested Needles: US size 5 (3.75 mm); Hook size F
Care: Handwash with care, dry flat; or have dry-cleaned at a facility with experience in this kind of fiber - the fiber felts easily

Kate Middleton Cardi from Vogue Knitting (Free Pattern with your purchase)


18 (23, 25, 28) of Belangora French(angora)
• One pair each sizes 4 and 6 (3.5 and 4mm)
needles OR SIZE TO OBTAIN GAUGE
• Size 4 (3.5mm) circular needle 24"/60cm long
• Removable stitch markers

Read more about our Amazing Angora Yarns!
801 White
802 Pink
803 Baby Blue
805 Lilac
807 Pearl Grey
808 Powder
809 Beige
810 Biscayne

811 Brown

812 Scarlett
813 Taupe
814 Royal
815 Navy
816 Black
825 Lavender
830 Turquoise
831 Green Apple
832 Cherry Blossom
833 Flamingo
834 Carolina Blue
856 Grenat
860 Champagne
861 Light Camel
863 Copen Blue
868 Canary
870 Dark Grey
871 Oatmeal
876 Off White
885 Mink
889 Fuschia