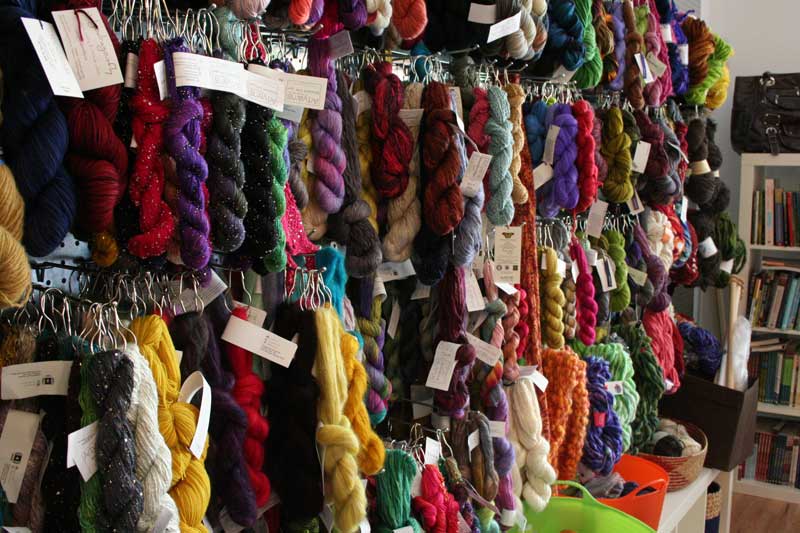 Visit Fab in Tivoli
Located at 60 Broadway in Tivoli in New York's Hudson Valley (near Red Hook, in Dutchess County). We're 5 minutes north of Rhinebeck off Route 9G, just across the bridge from Woodstock, Kingston and Saugerties—or a lovely 2-hour drive north of NYC. Visitors to Rhinebeck Sheep & Wool Fest know a visit to Fab Tivoli is a must! :)
Store hours are Weds-Sunday 12-6—if you need to reach us, please contact us via chat or phone during these times. Phone: (866)-514-1127 (toll free) during store hours Weds-Sun 12-6pm. It's best if you do not leave a message, rather send an email or chat with us online from 12-6pm.
If you are traveling from a distance, we generally stick to these hours, but we are a family business (see Liam on the jade sapphire scarf page) and sometimes things do come up! We want to be here, so let us know you are coming!
Who we are
We are an independent, online and brick and mortar luxury yarn and fiber shop. We focus on specialized, handspun, handmade and fabulous yarns for the most discriminating of knitters and crocheters.
What this means: Most importantly it means that we try, try, try to meet your requests as accurately and as quickly as possible. We strive to get you what you want, in the best way possible. We know in the online world, everyone is used to immediate satisfaction - but please, keep in mind: these are specialized, handpainted, luxury yarns. Sometimes getting you exactly what you want (ie, a matched lot of 12) takes a bit of time.
We're a small "Mom & Pop" shop with a HUGE selection. We started with one or two specialty yarns from Artyarns and Blue Sky Alpacas in 2005 and since then have expanded our line of knitting yarns and accessories to include all kinds of fiber and related products—from knitting needles and crochet hooks to books, patterns and spinning wheels, plus a big range of luxury bags and totes (good for carrying anything!)
More About Us
Fabulousyarn evolved from a hand knit business called fabsweaters, which was started in 2003. When you run a handknit business, you have tons of yarn sitting around--and people kept asking to buy it--so we started selling it.
What started as a small addition to a totally different business became its own thing in January of '06. And what started as a simple website devoted to one or two yarns has evolved into an obsession for us, a web site devoted to, well, fabulous fibers. We've grown and grown over the past year, and have made the commitment to brick and mortar after friends and customers hounded us to do it.
Why a yarn store in Tivoli, New York?
Well, it started with our friend Lisa. She's a real estate agent, and our space is next to Gary DiMauro Real Estate (if you're looking for wonderful properties up here, I highly recommend them!). One look at this space--and we just had to do it. Besides getting all the yarn out of our attic, and saving ourselves serious head injury from the crossbeams, we now are part of a wonderful community. Across the street are wonderful eateries--for a list, checkout tivolinow.com. Our new space in Tivoli, NY is fabulous, beautiful and just waiting for you to visit.