$52.95 or less (Reg $66.19)
After Discounts applied at checkout.
---

Knitters Pride Dreamz Special 16-inch Interchangeable Needle Set... Special 4in (10cm) Tips are designed to produce circulars in 16in (40cm) length when used with specially configured cords in the set. Tips may be used with any Knitters Pride interchangeable cord.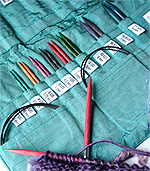 Works great with Della Q's Interchangeable Travel wallet (at right).
These needles have a beautiful finish, are colored coded so no mixing up sizes, and secure join to the very flexible cables. The points are nice and sharp, but won't hurt your fingertips. Very light, very easy to handle. Lightweight, strong, durable needles and easy to connect cord with smooth joins that let stitches glide with no catching. Resilient, flexible cords lay flat, with no kinking or twisting. Easy to store, easy to use and perfect for beginners. Easy on the hands, reduces finger fatigue!
includes 7 Tip Sizes: 3.5mm (US #4) + 3.75mm (US #5) + 4.0mm (US #6) + 4.5mm (US #7) + 5.0mm (US #8) + 5.5mm (US #9) + 6.0mm (US #10)
includes Cords/Accessories: 2@ 16 inch (40cm) Cords: plus Size Markers, 4 Endcaps, 2 Cord keys and a Dreamz Black jacquard fabric Case.
See also: More Knitters Pride Dreamz Needles
Knitters Pride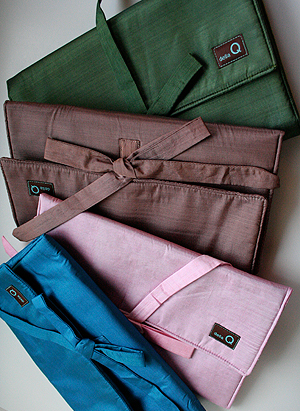 Knitters Pride makes unusual and exotic tools for knitters and crocheters. From Rosewood, to Nickel, to Swarovski Embellished tips, you'll find the tools that make your craft even more fabulous!
Want to dress up your KP Interchangeable Set? Try a Della Q or Offhand Design SWITCH cases! Della q interchangeable needle cases in pure silk protect your needles in style.